It's rare in our industry that a product is so ground breaking that the public knows it by its brand name. MNP has achieved this a number of times, but never so dramatically and importantly than with the Surfinia® family of trailing petunias. The introduction of Surfinia's changed the way we look at trailing plants, and created a whole new market of basket plants for our industry. Imagine our towns and pubs in the summertime without their cascades of colour.
Selling a young petunia plant propagated by a cutting was alien to nurseries 30 years ago, no one could have imagined how its success would change production and introduce many new species to our baskets and gardens. Bringing a new variety to the market can take years of painstaking trialling. Many factors can prevent the most beautiful looking variety ever getting into our garden, including – failure to root well, produce enough cuttings, or be susceptible to diseases.
The time and dedication of breeders is only rewarded when they have finally built up enough healthy stock to launch onto the market. For every cutting that is sold a small licence fee will go back to the breeder allowing them to continue their creative work. This system has encouraged the industry to continue to strive to make outstanding new products to delight our customers each year. While many copycat cultivars have been introduced since the launch of the Surfinia®, it is still the garden centre customer's first choice. They love the colours, the trailing habit, but above all they know it will perform wherever they are planted.
It is remarkable that after 30 years the Surfinia® family are still the go-to series of trailing petunia's, still dominating the market with their outstanding garden performance.
Roland Smith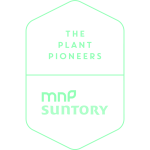 MNP / Suntory from the Netherlands is the company behind this successful brand. At this "house of brands" in Leimuiderbrug is where the magic happens: powerful brands are created after extensive tests and accurate selections of the highest quality genetics of indoor & outdoor plants coming from Suntory Flowers Ltd. (breeder) in Japan. MNP / Suntory gives custody for production of our products to carefully selected growers (propagators) in Europe, which we call our licensees; meanwhile, innovative stories are written. For this reason, we are the plant pioneers! "Pioneers & trendsetters in breeding, selecting, marketing and licensing of innovative and superior quality (bedding) plants."
To experience what characterises our unique products, you cannot miss a single one of "the plant pioneers" brands, click on the logos to discover them!