An iconic brand story
History of Surfinia®
Breeding Surfinia®
Japan, 1987, Suntory®, a Japanese company famous for its whisky's, beers and wines, decides to set up a flower division: Suntory® Flowers Ltd. The reason is their discovery of a new Petunia variety with great growing and flowering characteristics.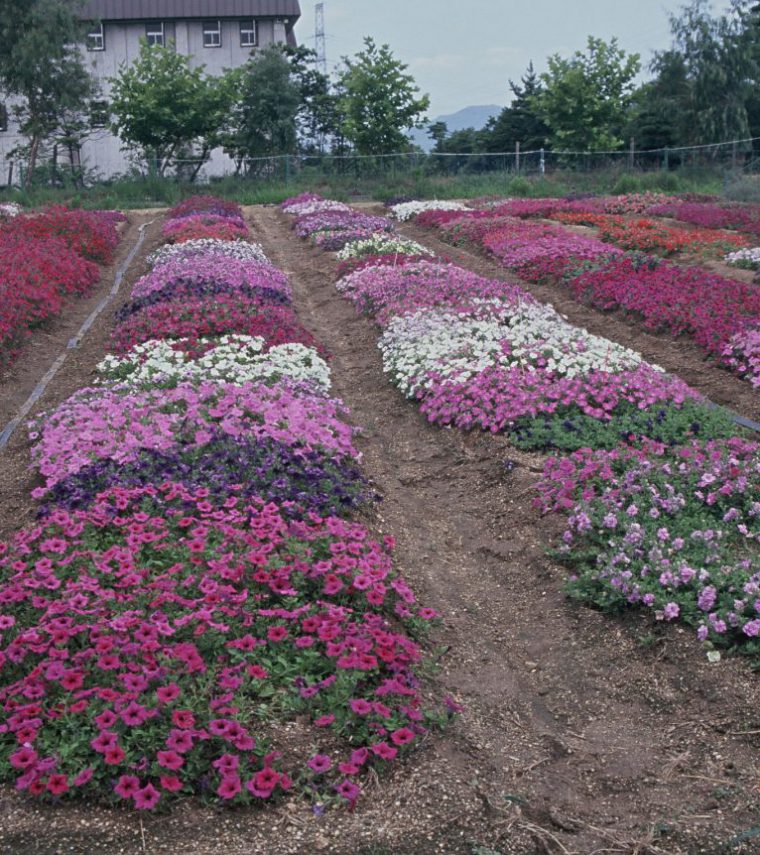 Surfinia® testing fields in Japan
How it all began…
At the same time, MNP, what was then known as Moerheim New Plant BV, is busy making professional connections with foreign companies. Through these connections, they hear about the steps that Suntory® is taking into the horticultural market. MNP sees potential in the new Petunia that they have created and soon the first conversations between MNP and the breeders of Suntory® start.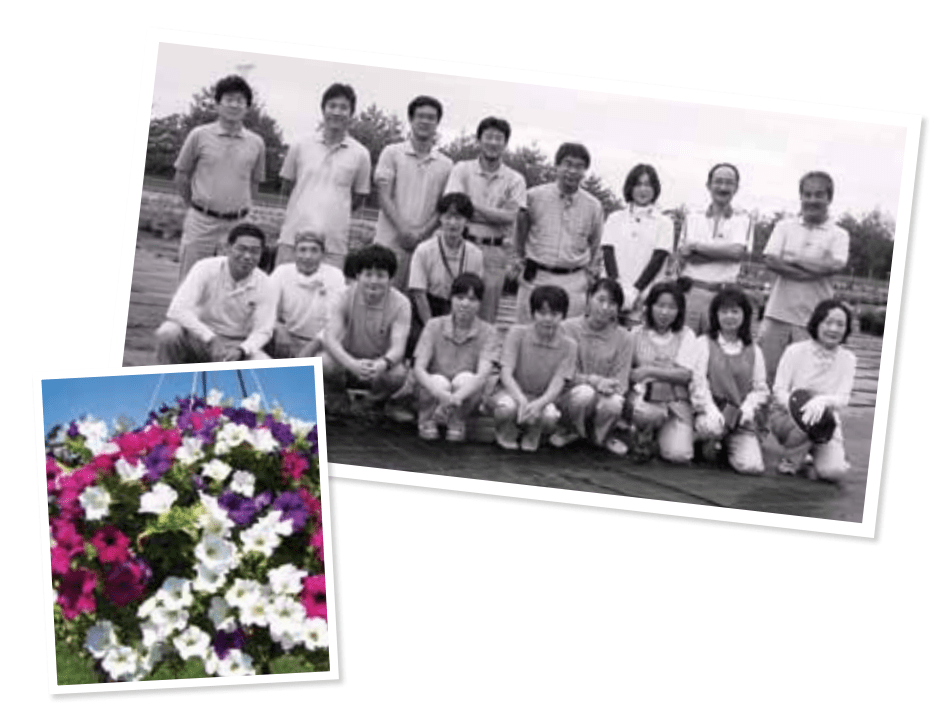 Suntory Flowers Ltd. breeding team
Marketing Surfinia®
MNP pitches its marketing plans for Surfinia® in Europe at Suntory® in Japan. MNP receives the first Surfinia® cuttings from breeding to test and select in The Netherlands. The marketing plan is approved and the introduction of Surfinia® in Europe could be prepared. The rest is history!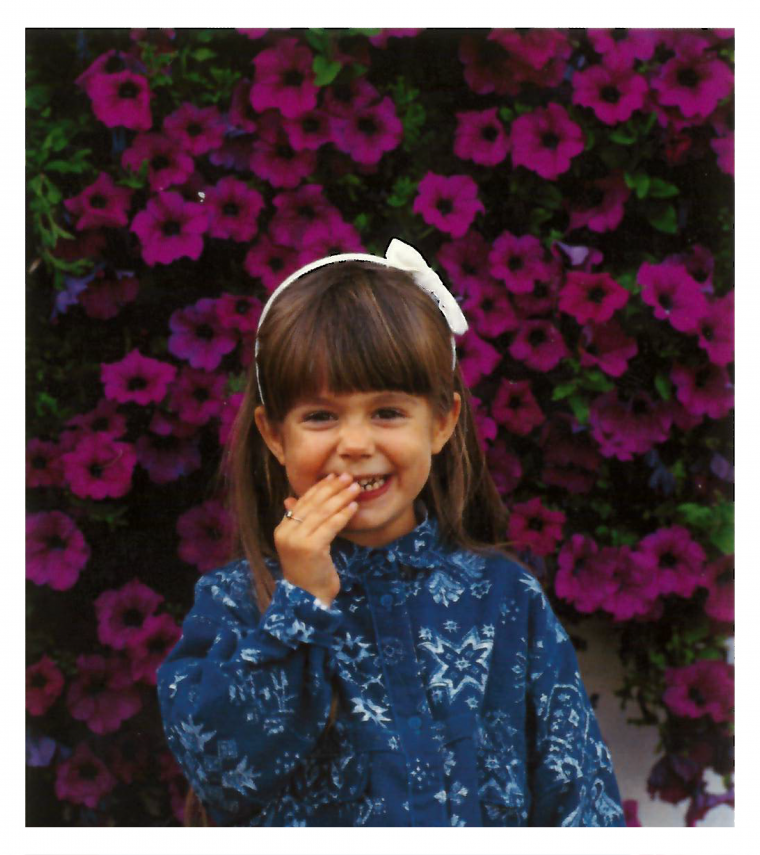 Surfinia® girl (8 years old)
Surfinia® Purple
The result is a unique cooperation between Suntory® Flowers Ltd. and MNP, in which MNP obtained the rights for all Suntory® genetics in Europe, Middle-East and Africa. Together, they introduce Surfinia®: the first trailing Petunia produced from cuttings. The Surfinia® Purple.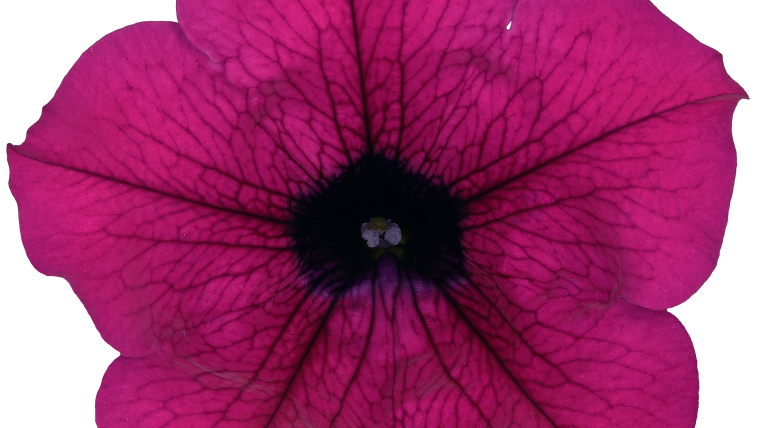 Surfinia® Purple
Consumers meet Surfinia®
"At this point in time the first 800 cuttings from Surfinia® Purple, Purple Mini and Purple Brilliant were planted at grower Aartsen in The Netherlands. This is also when the promotion for growers and consumers starts.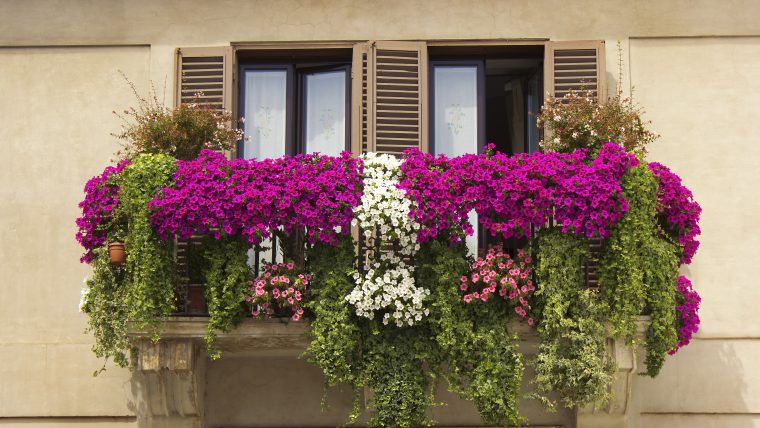 Surfinia® Purple
A million Surfinia®'s sold
The introduction of Surfinia® in Europe is a big success and soon other European licensees like Kientzler, Lazzeri, Boyard, Muller, Four Oaks and Hanson are welcomed. Surfinia® gets its official plant breeders rights and Surfinia's  are planted at the Floriade in Zoetermeer (The Netherlands). At the end of this year there are more than a million Surfinia's sold in Europe, a real milestone.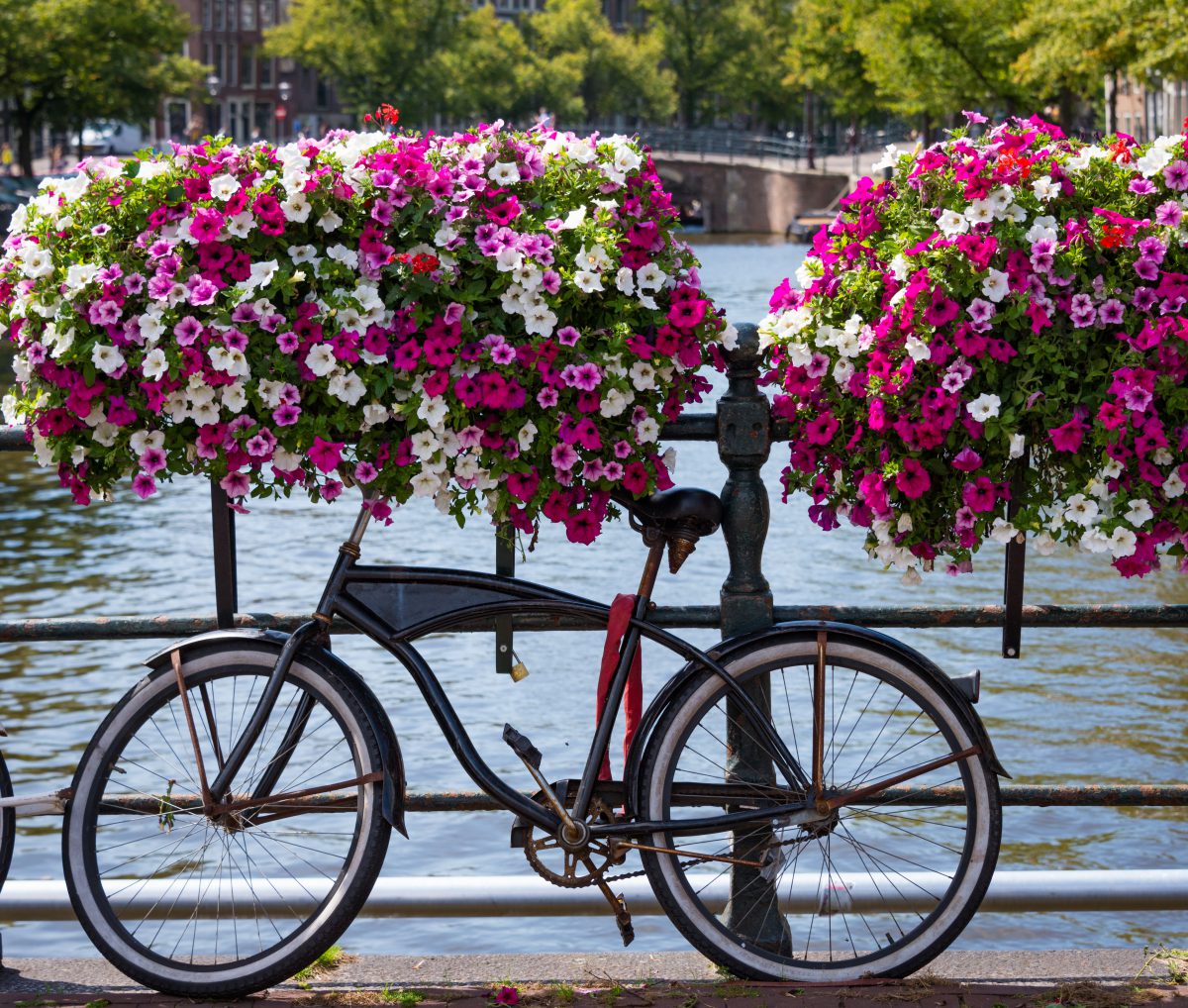 Surfinia® in Amsterdam (The Netherlands)
Joined promotion
The first European Surfinia® meeting takes place at MNP in The Netherlands, together with all Surfinia® licensees.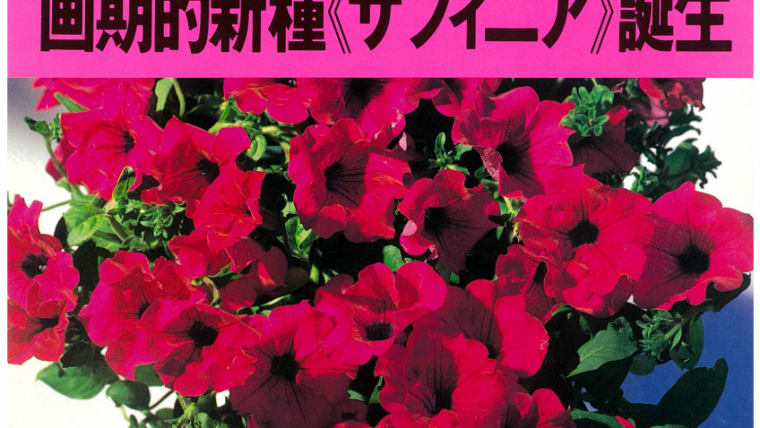 One of the first Surfinia® advertisements from Japan
25 million Surfinia's sold
More than over 25 million Surfinia's are sold during this year.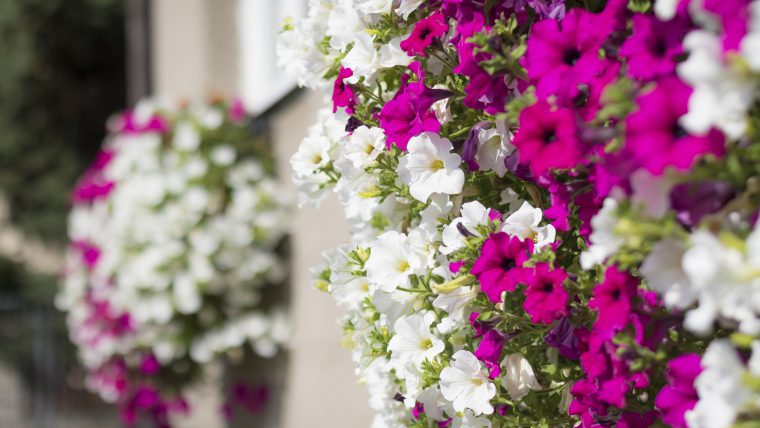 Surfinia® Purple
50 milion anniversary
More over than 5o million Surfinia's are sold in Europe this year alone.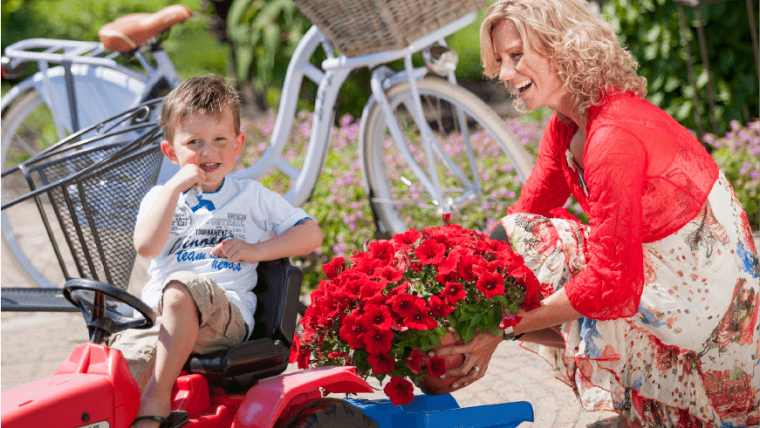 Surfinia® Deep Red
Sales record of 65 million
All sales record are broken. This year there were more than 65 million Surfinia® sold in Europe.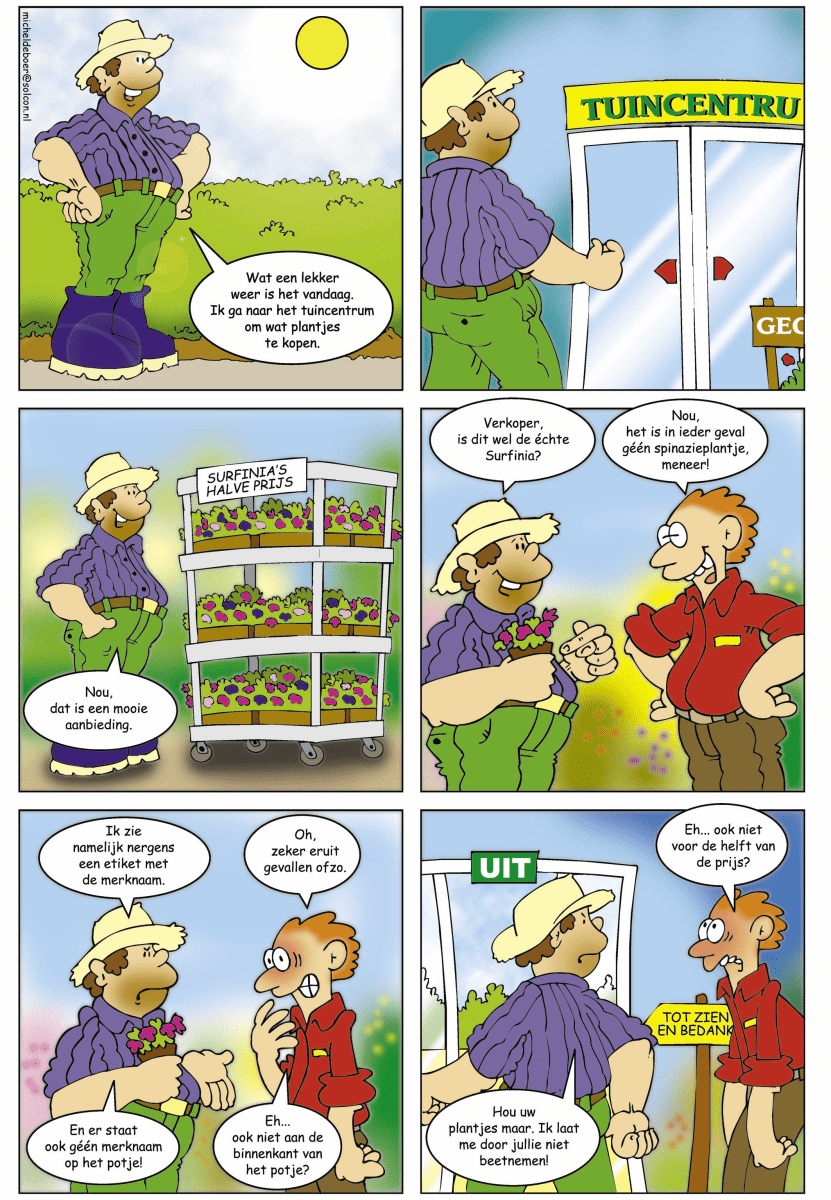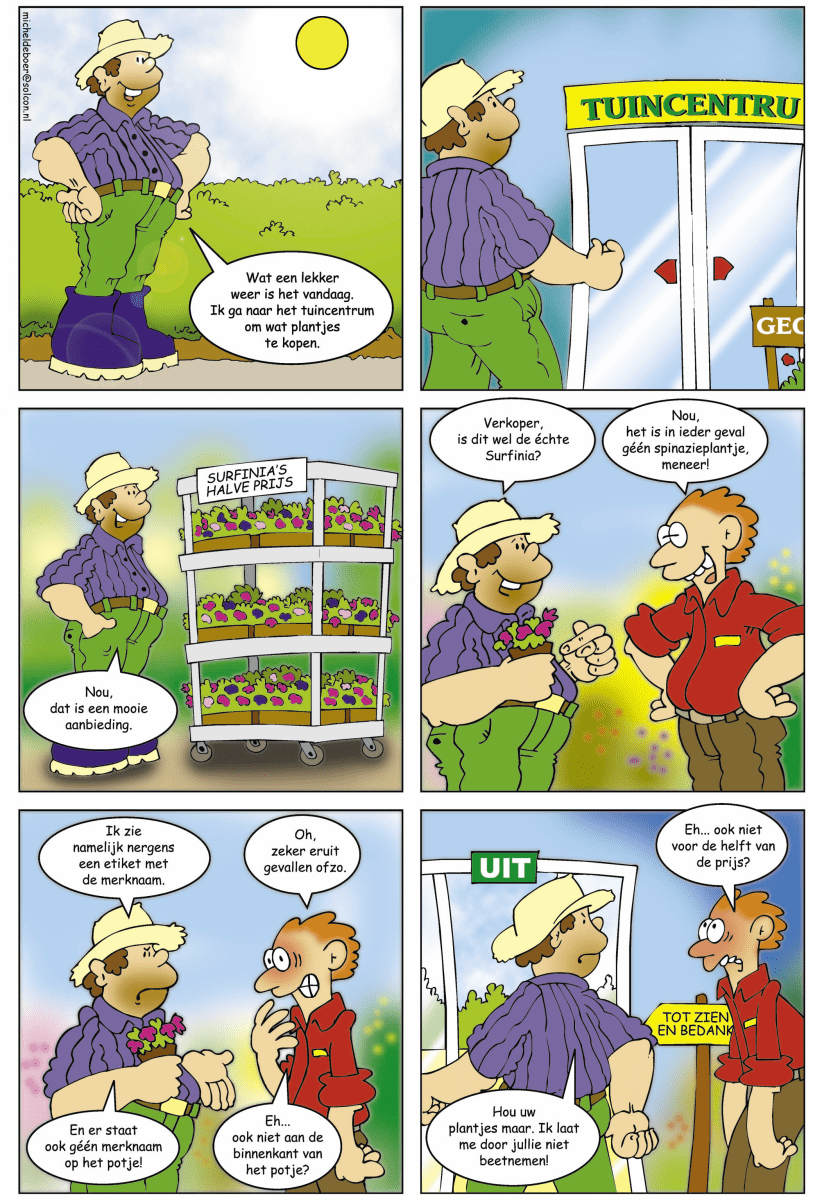 Dutch Surfinia® Comic strip (Michel de Boer)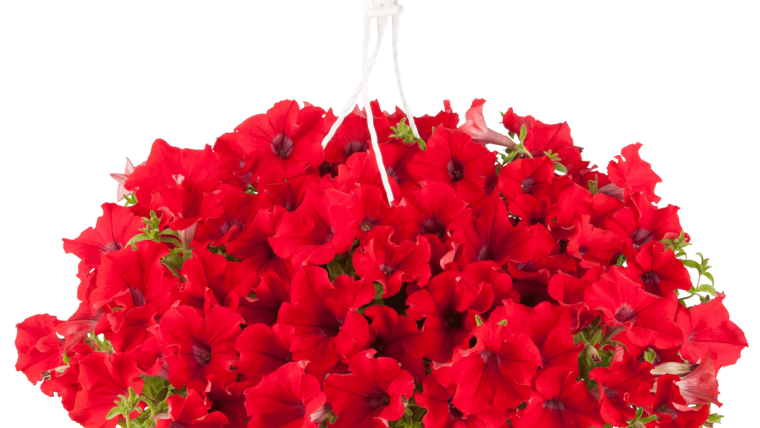 Surfinia® Trailing Red
Re-branding Surfinia®
Kick-off Surfinia® 30 years anniversary! Surfinia®, market leader for almost 30 years. In 2019, additional promotions will follow for license holders and gardeners. In 2020, special promotions for consumers will follow.
# Surfinia® Deep Red receives Royal Horticultural Society Award of Garden Merit.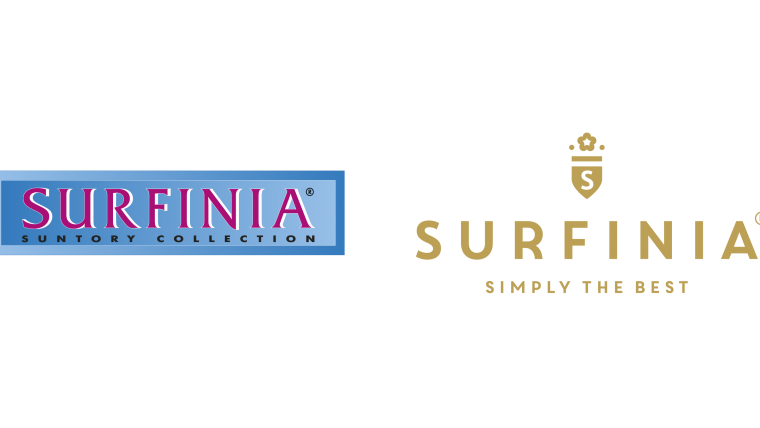 Old and new Surfinia® logo
Guinness World Record
Surfinia® wins Guinness World Record for tallest Topiary sculpture in Dubai.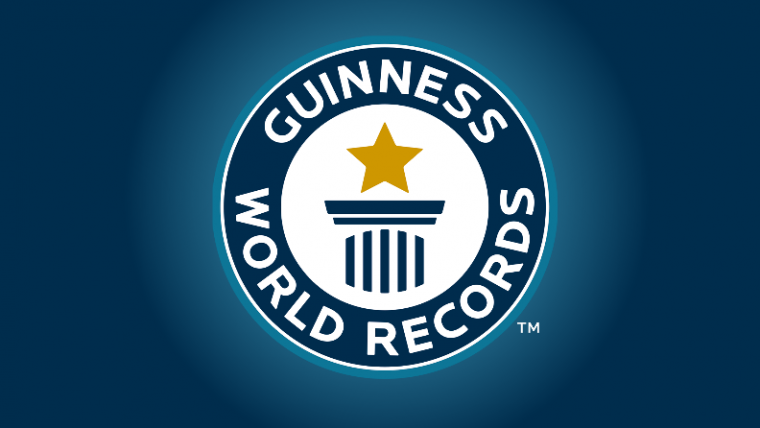 Surfinia® Petunia
30th anniversary for licensees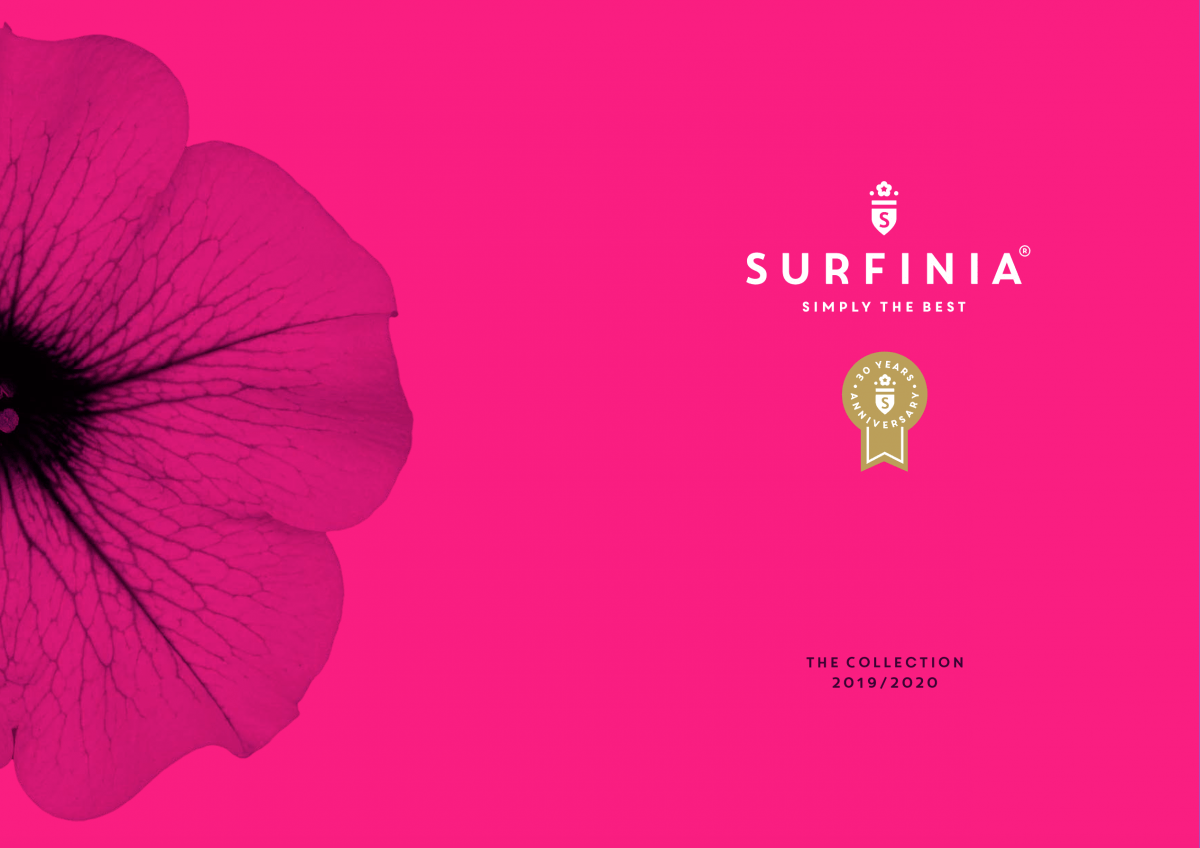 Surfinia® 30th anniversary logo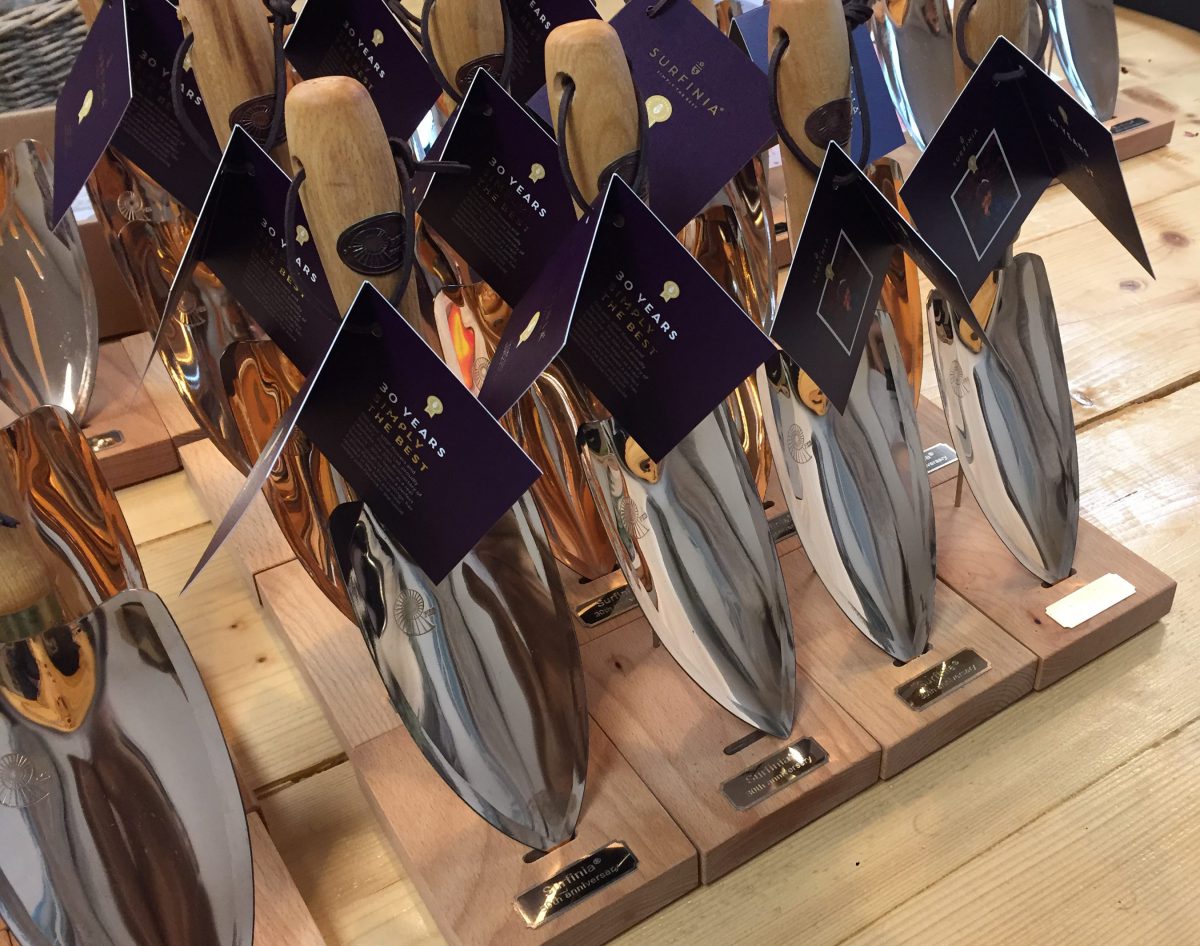 Surfinia® 30th anniversary (copper trowel)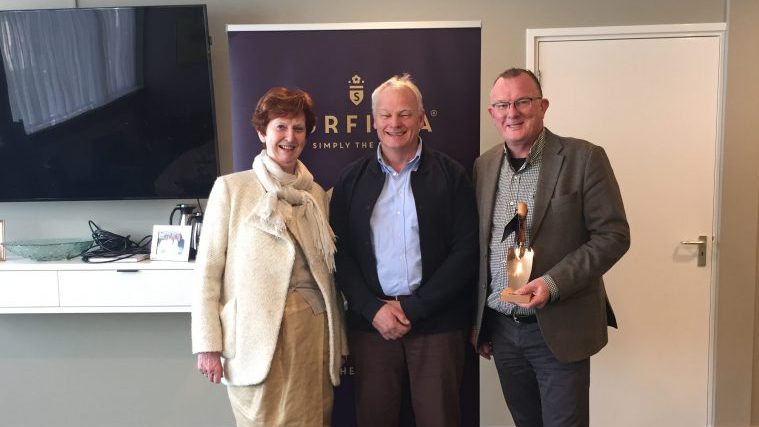 Beekenkamp (Ann Beekenkamp, Jeroen Egtberts & Marc Driessen)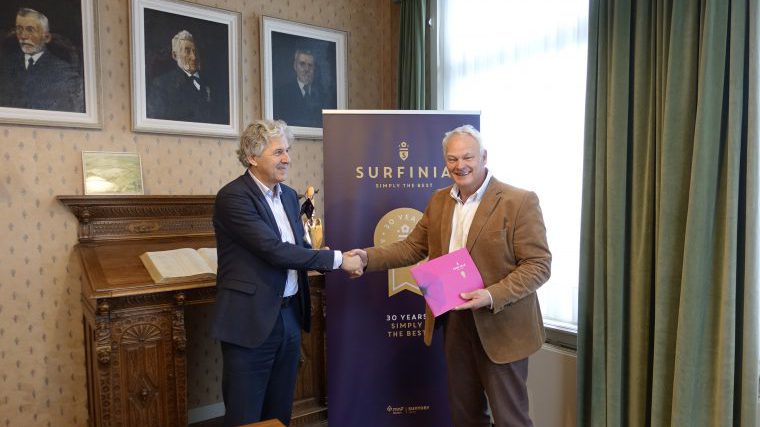 Syngenta Flowers (Michael Kester & Jeroen Egtberts)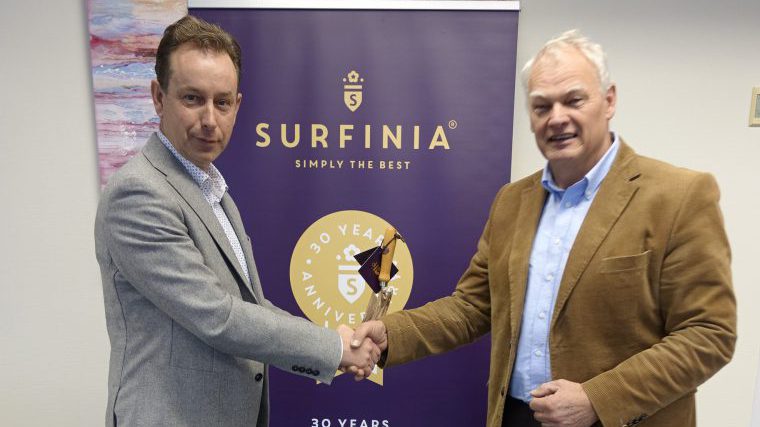 Florensis (Leo Hoogendoorn & Jeroen Egtberts)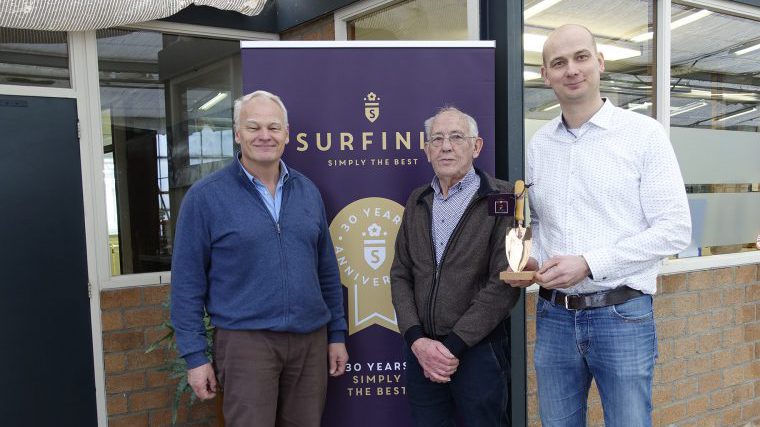 M. van Veen B.V. (Jeroen Egtberts, M. van Veen & Albert van Veen)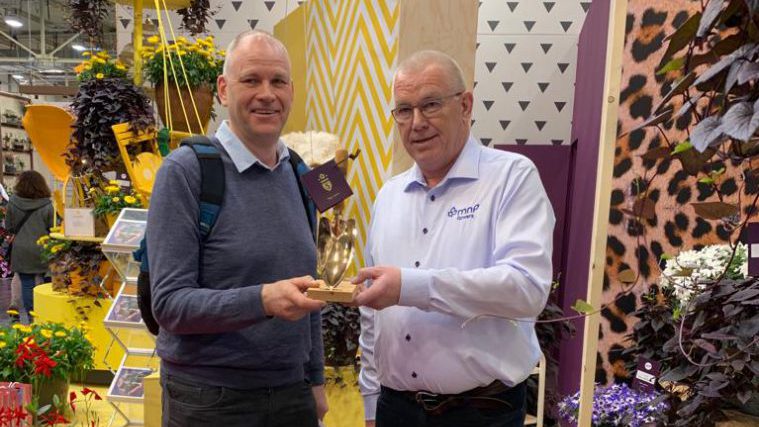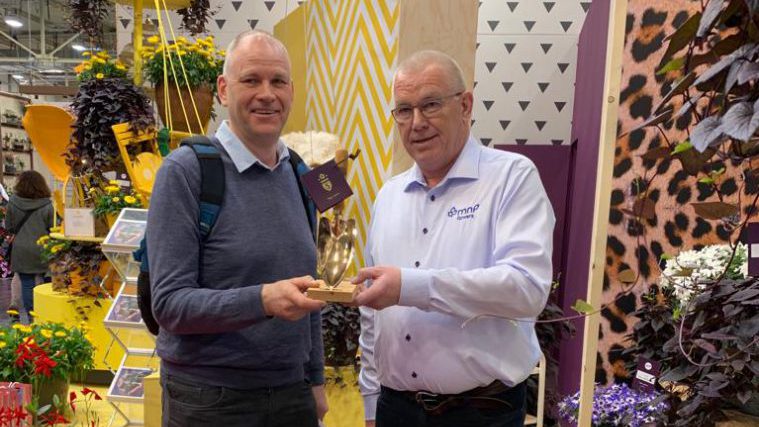 G3 Ungplanter (v? & Klaas Droog)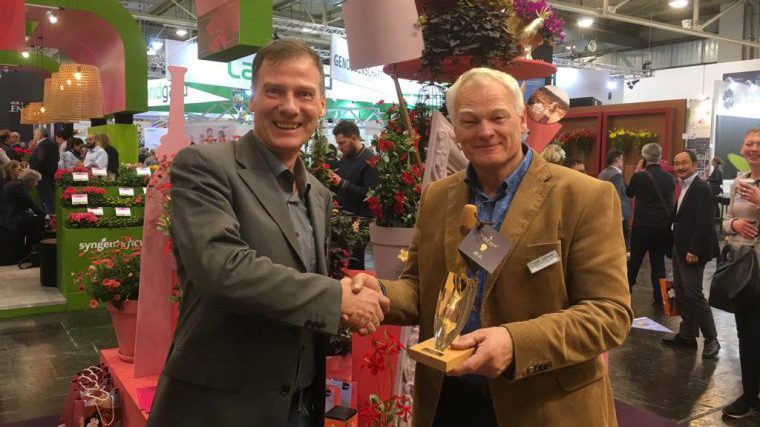 Volmary (Yoav Scholz & Jeroen Egtberts)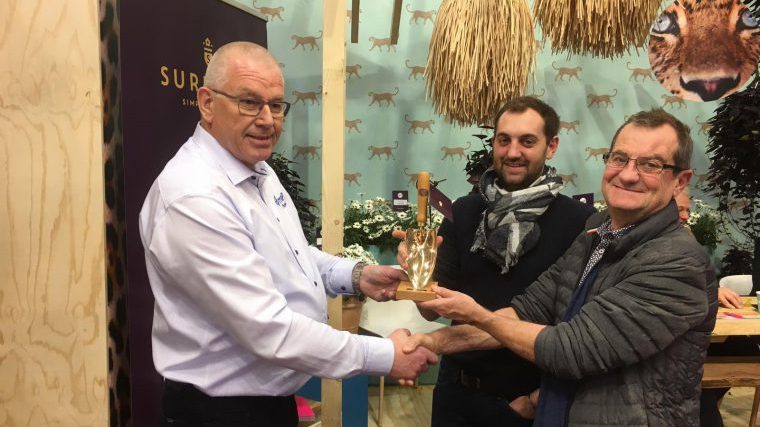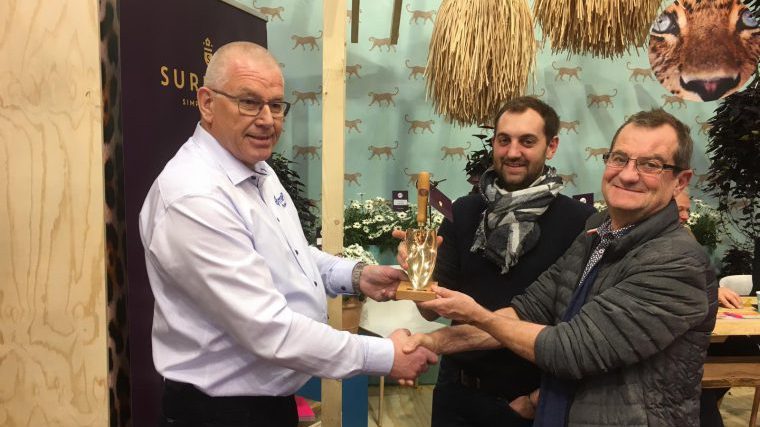 Haberschill Végétal (Pierre Haberschill, Cyril Haberschill & Klaas Droog)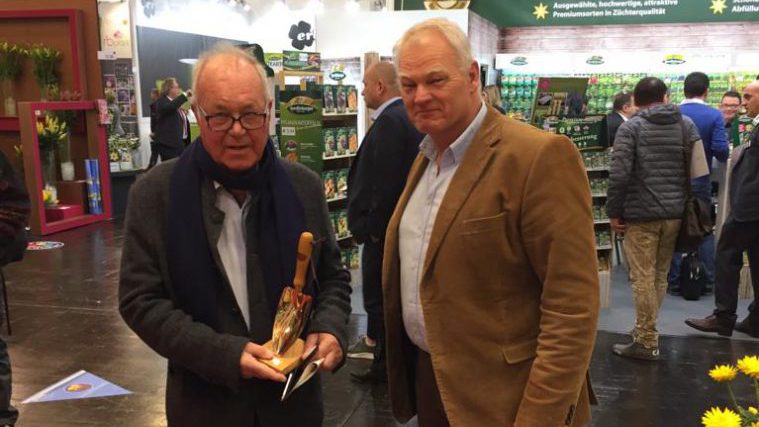 Kientzler Jungpflanzen (Ludwig Kientzler & Jeroen Egtberts)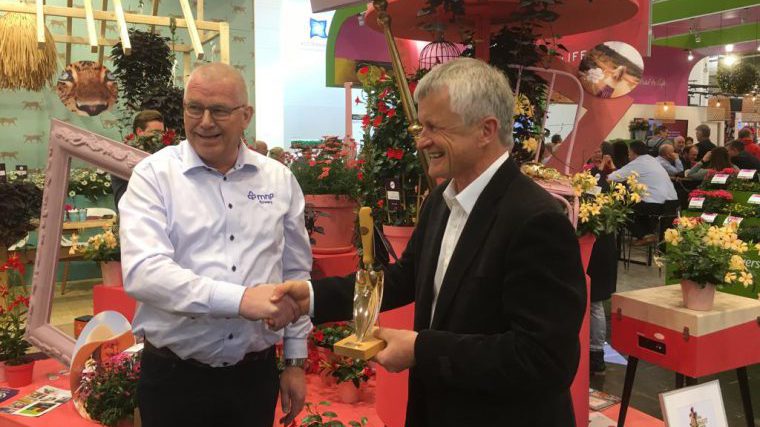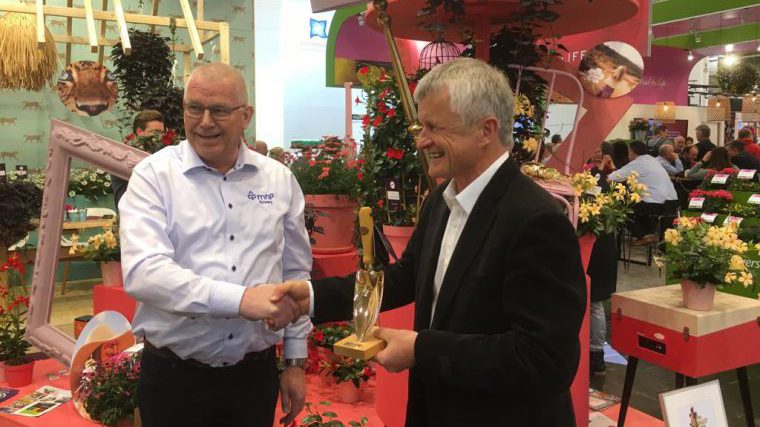 Plantpol Sp. z o. o. (Klaas Droog & Jerzy Starzyński)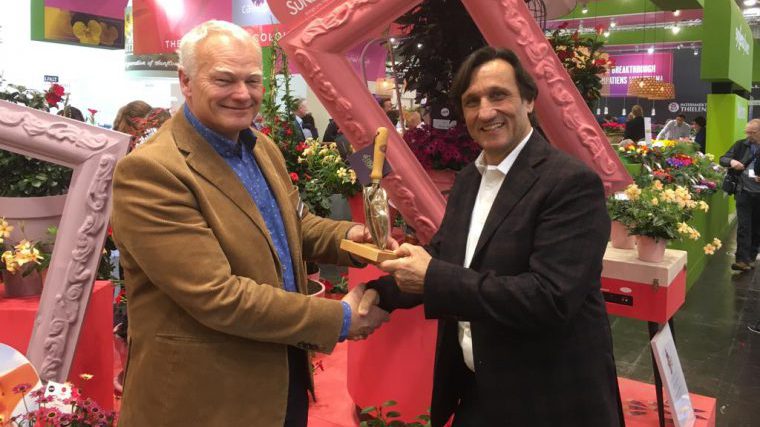 Lazzeri (Jeroen Egtberts & Andrea Lazzeri)
Store actions for consumers
Coming soon…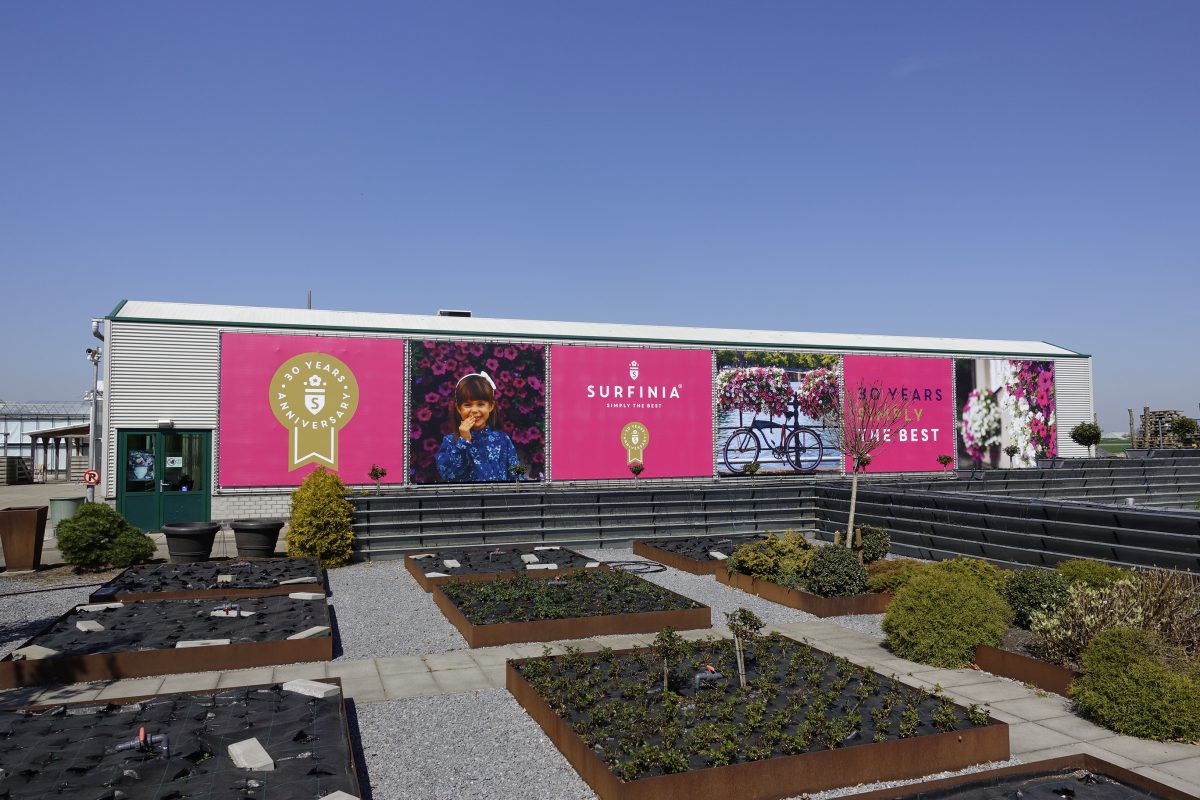 Surfinia® banner at MNP, Leimuiderbrug (The Netherlands)

MNP / Suntory, "Pioneers and trendsetters in breeding, selecting, marketing and licensing of innovative and superior quality (bedding) plants."
MNP / Suntory (the Netherlands) introduces new plants and varieties from the Japanese breeder Suntory Flowers Ltd., among others, onto the European ornamental horticultural market. MNP / Suntory has several selection specialists, who all have in-depth knowledge of the European horticultural market. Together they select plants and varieties that suit this market perfectly. They are tested extensively at several testing locations. Next to that MNP / Suntory carries out market research for every variety, which is very important for "positioning" the product. They think about "product naming" and branding (logo, labels, pots, leaflets, website, etc.). Growers pay a license fee for Suntory® genetics. MNP / Suntory recoups this license fee to its business partners by creating marketing concepts, arranging free publicity and PR, safeguarding plant quality, etc.