Ask your retailer for the real no #1 trailing Petunia
OFFICIAL LABELS
Ask only for the real Surfinia®!
Many have tried and are still trying to breed a strong, beautifully trailing Petunia, but nobody has managed to copy the appearance and perfect qualities of Surfinia®. Always buy the one and only Surfinia®, which is the #1 Petunia on the market. The official Surfinia® brand labels are specially designed labels to tell the total story of the Surfinia® brand and its special characteristics.
These days consumers want more! They want a special design, more background information, more feeling (experience) with the product and most important, help to create a sea of flowers in their garden and a long-lasting life for its money. All the above things add extra value to the plant (brand), and will be achieved by using official brand labels. By using the branded labels, plants are visible and recognizable on store floors. They give more information and tell a clearer story about the good and different characteristics of the species in comparison to its competitor. By doing this, consumers will come back to the store and hopefully re-buy the same brand, our brand! As a result, more plants are sold and everybody in the (supply) chain will benefit.
Eco friendly labels
To emphasize the premium standard of Surfinia®, special labels where designed by FloraMedia. The labels have a natural look & feel and are 100% biodegradable, what makes them sustainable and environmental friendly. An important precedent, that perfectly suits the high quality that Surfinia® stands for.
Why We Do It
We will not keep these Surfinia® designs and information to ourselves. Instead, we want to share them with all our partners, so that our customers (licensees, growers, garden centers, etc.) can profit equally. The goal is not only to sell more plants but also to keep costs low, make a better and more reliable impression on the end consumer and stay ahead of the competition.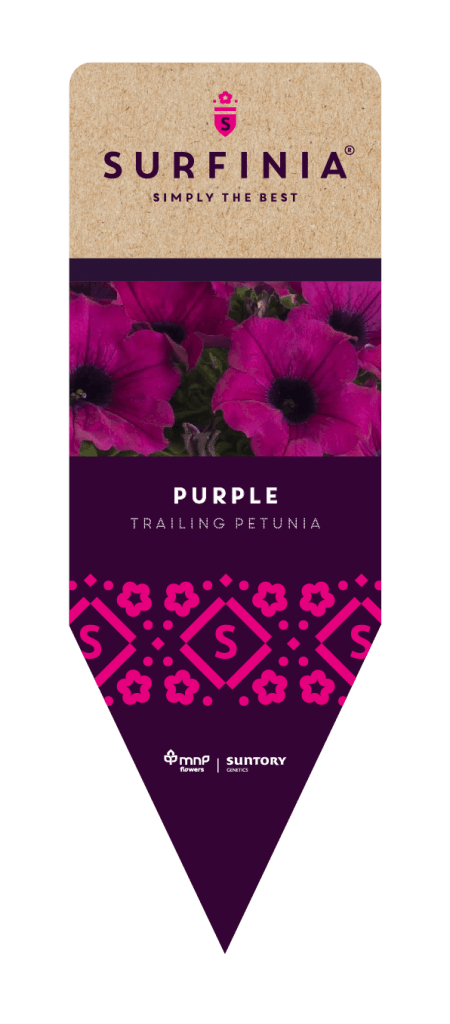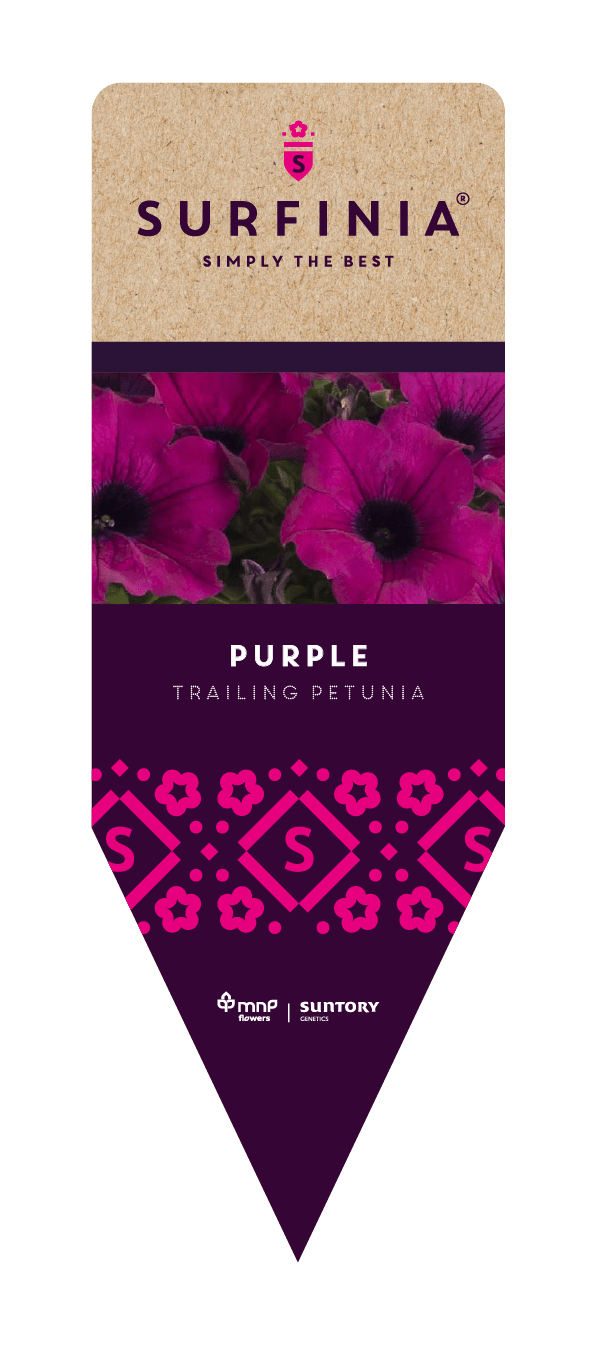 What's on the label
1. Registered trademark
Surfinia® is a brand and registered trademark of hybrids from petunia, bred by the Japanese breeder Suntory Flowers Ltd.
2. Variety name
"Purple" is the variety name of the plant. Most of the time this name refers to the colour of the flowers.
3. Varietal denomination
"Sunsurfbv" is the unique breed name of the variety.
4. Legal text
The legal text states that the trademark and the plant variety rights belong to Suntory Flowers Ltd, together with its distributor for Europe, MNP.
5. Icons
These icons help you with taking care of your plant, so you know exactly how to keep your plant happy!
6. Plant passport
Did you know…That plants have a passport? Since the 14th of December 2019, it is obligatory to add a so-called 'plant passport' to the labels. The passport shows its heritage and makes the product traceable to the grower.

MNP / Suntory, "Pioneers and trendsetters in breeding, selecting, marketing and licensing of innovative and superior quality (bedding) plants."
MNP / Suntory (the Netherlands) introduces new plants and varieties from the Japanese breeder Suntory Flowers Ltd., among others, onto the European ornamental horticultural market. MNP / Suntory has several selection specialists, who all have in-depth knowledge of the European horticultural market. Together they select plants and varieties that suit this market perfectly. They are tested extensively at several testing locations. Next to that MNP / Suntory carries out market research for every variety, which is very important for "positioning" the product. They think about "product naming" and branding (logo, labels, pots, leaflets, website, etc.). Growers pay a license fee for Suntory® genetics. MNP / Suntory recoups this license fee to its business partners by creating marketing concepts, arranging free publicity and PR, safeguarding plant quality, etc.