Surfinia®, 30th Anniversary of the trailing petunia.
Newspaper
To celebrate the 30th anniversary of Surfinia® we have created a newspaper. This is an ode to Surfinia® and her colourful collection that was developed over the past 30 years. It contains all the ins and outs about Surfinia® such as fun facts, her history, care tips, and a photo contest with a giveaway!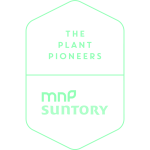 MNP / Suntory from the Netherlands is the company behind this successful brand. At this "house of brands" in Leimuiderbrug is where the magic happens: powerful brands are created after extensive tests and accurate selections of the highest quality genetics of indoor & outdoor plants coming from Suntory Flowers Ltd. (breeder) in Japan. MNP / Suntory gives custody for production of our products to carefully selected growers (propagators) in Europe, which we call our licensees; meanwhile, innovative stories are written. For this reason, we are the plant pioneers! "Pioneers & trendsetters in breeding, selecting, marketing and licensing of innovative and superior quality (bedding) plants."
To experience what characterises our unique products, you cannot miss a single one of "the plant pioneers" brands, click on the logos to discover them!