CREATING
ICONIC
IMAGES
You probably know the iconic images of old city centers somewhere in Europe, where Purple, Hot Pink or White Surfinia® are brilliantly cascading from lampposts, bridges and ornamental window boxes.
Without a doubt, Surfinia® is simply the best trailing Petunia in the world. It is not a coincidence that you will find trailing Surfinia® wherever you go: from the marvelous cities of Southern Spain to the cosy chalets in the refreshing mountains of Tirol. Surfinia® is everywhere. This beautifully trailing plant is the oldest Petunia in the world. It has been on the market for almost 30 years, and is still one of the top favourites with consumers.
Whether you wish to create a flourishing garden or a colourful city, there is always a Surfinia® variety that suits you. Internationally, the Brilliant Surfinia® (Shihi Purple) has proven to be the most widely used basic variety. By planting combinations of the different Surfinia® varieties, you can achieve a beautiful display of colours. Let your creativity flow! Are you more in favour of one stunning centrepiece? Every Surfinia® is also perfectly suitable for solitary planting. The choice is yours.
Applications
Surfinia® offers the ideal conditions for every desired design. Opulent ground coverings in beautiful colours can be realized with little effort. The excellent growth capacity of Surfinia® conjures up impressive floral carpets with a fantastic look. This makes Surfinia® also recommended for use on large surfaces, for example in parks, on business parks, at hotels, etc. Balconies, facades and trays for hanging baskets are particularly suitable for private gardens. Surfinia® provides beautiful colours and an abundance of flowers that is widely admired and praised. For the best results, pay attention to the original Surfinia® varieties. This is the only way to ensure an unparalleled flow of flowers throughout the summer.
WHY IT IS
SIMPLY
THE BEST
Surfinia
Surfinia® was the first trailing (hanging) Petunia brand on the market. Surfinia® Petunias are grown from cuttings and are perfectly trailing and rain resistant. A real breakthrough! Introduced in the nineties and still the top of the bill. But Surfinia® is much more nowadays.
The spectacular trailing habit of Surfinia® Petunia is unique and much bigger than the regular size of trailing plants. This is what makes Surfinia® still the best and most widely sold Petunia in the world, for almost 30 years and counting.
Another characteristic of Surfinia® is that it is resistant to rain, a major advantage over the more sensitive seed Petunia. The success of Surfinia® spreads rapidly across the continents. In Europe, the best-specialized companies took on the task of producing Surfinia® material of the highest quality and guaranteeing the level. It is certainly worthwhile for the user to purchase only Surfinia®'s of original quality. Only then you can be assured that your balcony, your flowerbed or flower dish will become the shining star of the neighborhood.
Simply the best
THE DISTINCTIVE
ADVANTAGES
What makes Surfinia® your perfect trailing Petunia? In addition to the existing Petunia,
Surfinia® offers distinctive advantages that make this variety superior to the other Petunia on the market.
Read moreabout the (botanical) history of Surfinia and Petunia.
Spectacular trailing habit
There are multiple trailing plants on the market, but there is no one close to the great trailing habit of Surfinia®. With Surfinia® you create large hanging baskets in an instant. Completely covered with flowers all the time!
Non-stop flowering
Surfinia® keeps flowering through the season. The blooming spreads from the beginning of spring until fall. That means beautiful hanging petunias fully covered with flowers all day, every day. Can you wish for more?
Superior garden performance
& Heat resistant
The ultra strong garden performance of Surfinia® is remarkable. Surfinia® varieties belong to the most weather tolerant plants in the world: from the dry and hot landscapes of France till the much colder of the mountains in Austria.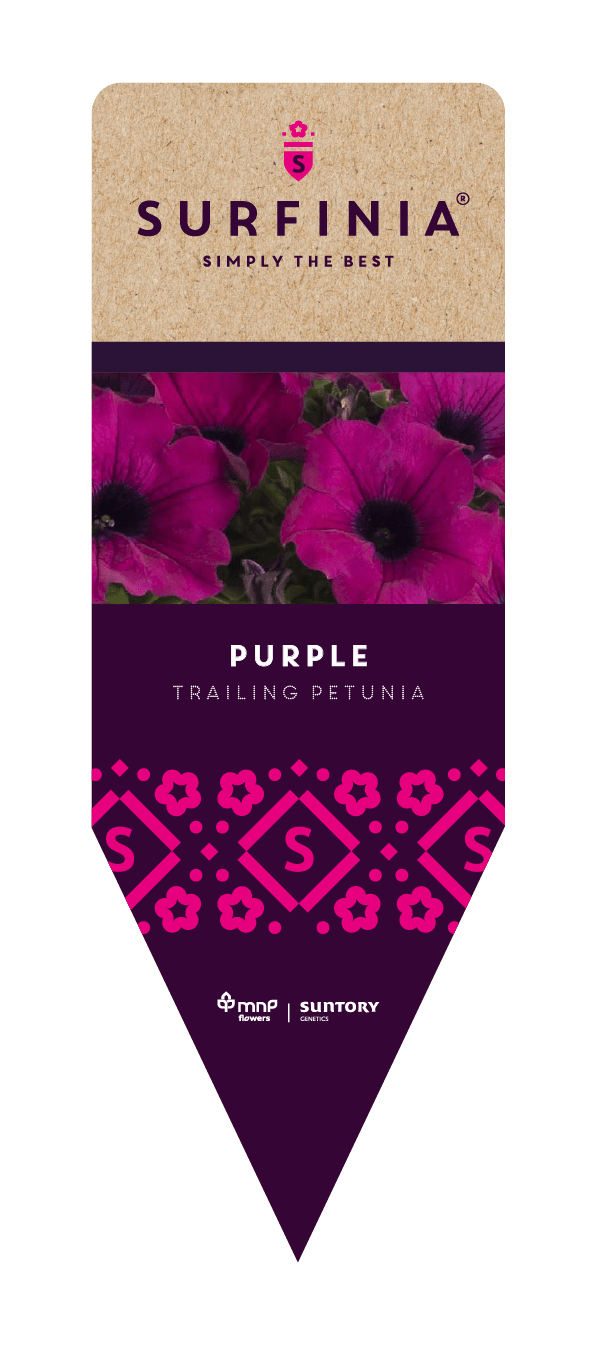 Long history
& Always reliable
With Surfinia® you are guaranteed of the highest quality Petunia in the world. It is not a coincidence that Surfinia® is still the best trailing and most widely sold Petunia in the world. Surfinia® is simply the best. For 30-years and counting.
Broad range of colours
Surfinia® fits all. Whether you wish to create an ultra pink, deep red or purple garden, there is always a flourishing Surfinia® variety that suits you.
Easy to maintain
We all love to garden but some chores are not our favourite, for sure. Deadheading is such an example. With Surfinia® you overcome this problem. Due to their self-cleaning habit, Surfinia® are care-free plants that do not require deadheading.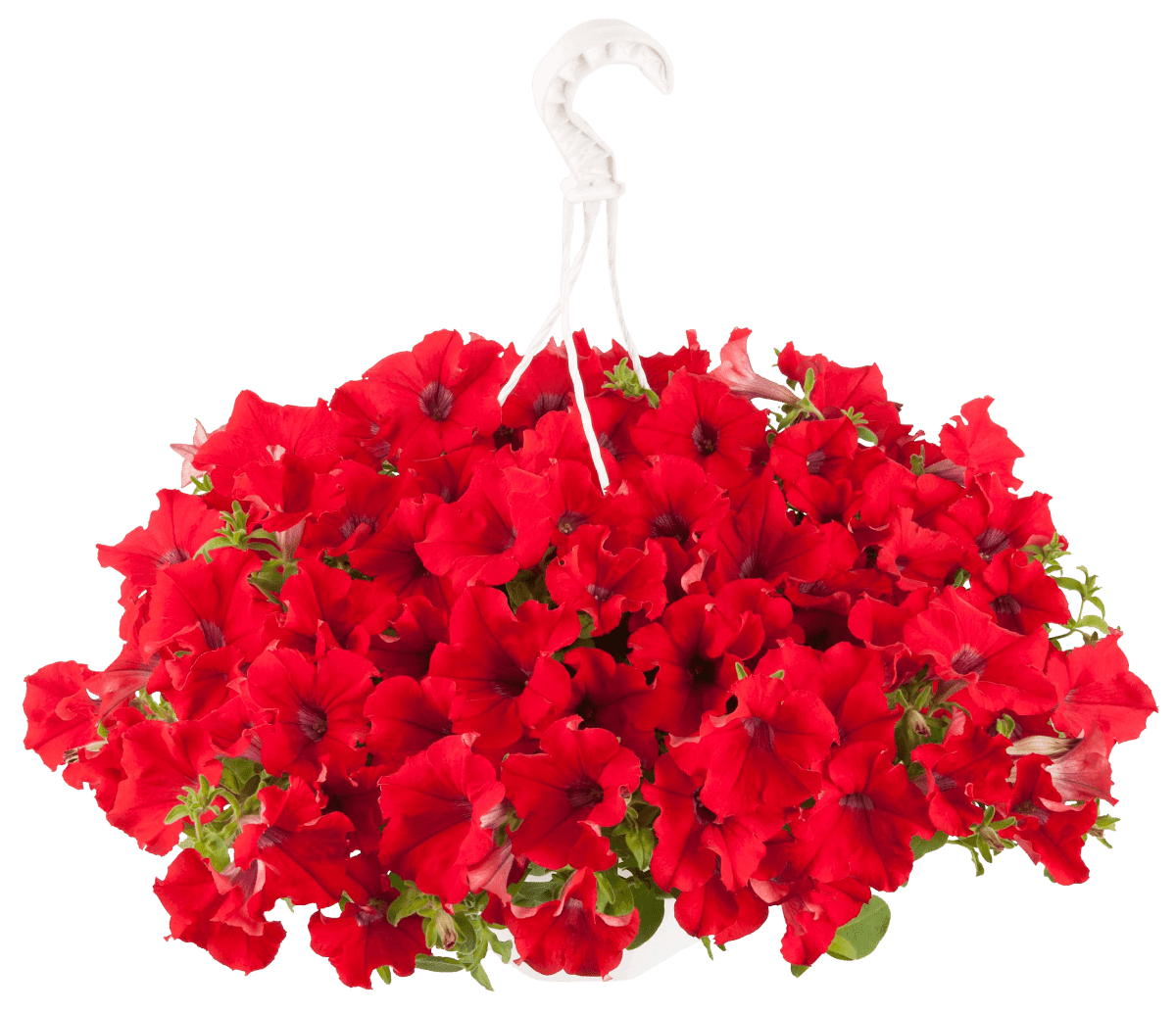 # Next generation Surfinia®
THE NEW
EARLY TRAILING
COLLECTION
You'll often see the classic trailing Surfinia® varieties like Purple, Hot Pink or White. Just hanging from window boxes in hanging baskets or on street lanterns. But never in red. Well that changes today! We introduce to you, the first early blooming red trailing Petunia. The Surfinia® Trailing Red.
It's really, really, really early flowering (week 14), has the largest flowers on a red Surfinia® ever (6,5 cm), superb Surfinia® quality, fast flowering like Surfinia® Deep Red, it's rain resistant, well branched, floriferous and vigorous. It's just the best red trailing Petunia there is.
If you don't believe us on our big beautiful blue eyes. Just get in touch and test them yourself.
The true
Story behind
No.1 Petunia
With Surfinia® you opt for the undoubtedly most beautiful new cultivation of bedding and balcony plants that our time has produced.
History
We owe the origin of the Surfinia®'s to chance rather than to targeted planning. The Japanese scientist Dr. Sagazaki was responsible for a viticulture project for the Suntory® company in southern Brazil. He noticed an exceptionally strong wild-Petunia species with beautifully coloured flowers along the edges of the fields. In the Suntory® laboratories Dr. Sagazaki opt to improve the original material of the wild plant. Thanks to complex bio-technical methods, it was indeed possible to grow new varieties that shaded all comparable species. Nature surpassed itself! The new Surfinia®'s turned out to be fantastic growers who achieved the tenfold volume of traditional Petunias. The first colour was purplish with fascinating light intensity, then the colour spectrum could be expanded with new shades.
Surfinia or Petunia
Often people ask what the difference is between Surfinia® and Petunia. Well: Surfinia® is a famous Petunia brand (registered trademark) created by Suntory Flowers Ltd. (Japan) and introduced onto the European market by MNP (The Netherlands). Lots of regular Petunias these days are being sold under the name of Surfinia®. Chances are that these plants won't give you the same results that an original Surfinia® will give you. There are 6 good reasons to buy a real Surfinia® Petunia.
"Every Surfinia® is a Petunia, But not every Petunia is a Surfinia®!" 
(Klaas Droog, Productmanager)
We are here
for you
The Surfinia® collection is a tried and tested garden favorite, and will be given a refreshing, contemporary marketing boost. Just imagine what that will mean for sales of this plant and for your business! Surfinia® is a guaranteed cash cow for retailers, earning it the position of market leader in its segment. We want you to share this phenomenal success. Include Surfinia® in your product range, and you will reap the benefits too. That's why we'll be offering you the very best marketing support, gadgets, and products, so that Surfinia® will become your most wanted product too, guaranteed to get buyers coming back for more. We hope that you will be keen to share the one and only true Surfinia® with your customers.
We have a team of professionals standing by to answer all of your questions.

MNP (the Netherlands) introduces new plants and varieties from the Japanese breeder Suntory Flowers Ltd., among others, onto the European ornamental horticultural market. MNP has several selection specialists, who all have in-depth knowledge of the European horticultural market. Together they select plants and varieties that suit this market perfectly. They are tested extensively at several testing locations. Next to that MNP carries out market research for every variety, which is very important for "positioning" the product. They think about "product naming" and branding (logo, labels, pots, leaflets, website, etc.). Growers pay a license fee for Suntory® genetics. MNP recoups this license fee to its business partners by creating marketing concepts, arranging free publicity and PR, safeguarding plant quality, etc.