We live in an age where the market is overwhelmed with options for bedding and baskets plants. Where selecting the best varieties for your garden can be a daunting task if you are not in the horticulture business. However, one thing is certain, most customers will know and ask for one variety by name – Surfinia®.
As a nursery and garden centre we are in the unique position of growing plants for sale to various customer types with different needs and by far the most popular basket plant is a Surfinia® and has been for many years now. From home gardeners to commercial properties and Parks & Gardens departments within local authorities. The Surfinia® range still accounts for more than 50% of our annual cutting raised petunia production. I believe the popularity is down to the knowledge that planting a Surfinia® will provide you with a grand display to be admired by many! A Surfinia® is a reliable choice for summer colour and will keep flowering until the first frosts.
If they start to look a little untidy during the season, cut the plant back, add a handful of control release fertiliser and you will be amazed at how quickly they bounce back. You would be surprised how quickly a Surfinia® recovers from our Scottish rain and they are much tougher than the seed raised petunia's on the market.
I would recommend use in baskets, containers, window boxes and as a ground cover. The plants give a beautiful cascade of colour and with so many striking colours to choose from they can be easily combined with complementary or contrasting colours to add interest to the garden whilst also being able to hold their own in a single coloured basket.
We always look forward to new colours being introduced to the range as do my customers and I am quite sure the popularity will not fade whilst this reliable range fails to let us down with its excellent garden and outdoor performance.
David Spray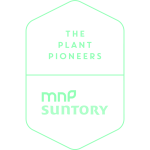 MNP / Suntory from the Netherlands is the company behind this successful brand. At this "house of brands" in Leimuiderbrug is where the magic happens: powerful brands are created after extensive tests and accurate selections of the highest quality genetics of indoor & outdoor plants coming from Suntory Flowers Ltd. (breeder) in Japan. MNP / Suntory gives custody for production of our products to carefully selected growers (propagators) in Europe, which we call our licensees; meanwhile, innovative stories are written. For this reason, we are the plant pioneers! "Pioneers & trendsetters in breeding, selecting, marketing and licensing of innovative and superior quality (bedding) plants."
To experience what characterises our unique products, you cannot miss a single one of "the plant pioneers" brands, click on the logos to discover them!